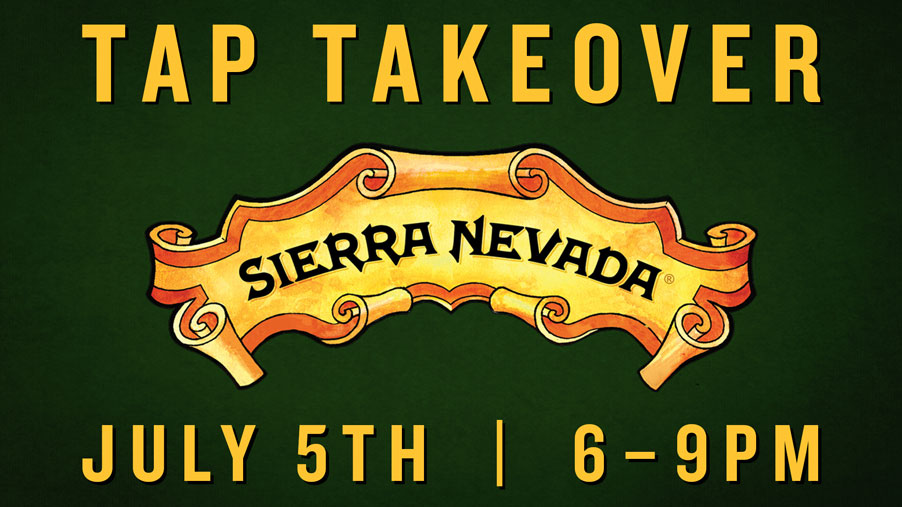 Our First Friday beer event – Tap Takeover – is held on the first Friday night of each month and features a different local brewery. Continue the Independence Day celebration and meet us at The Kitchen on Friday, July 5 for $5 pints from 6-9 p.m. with Sierra Nevada!
And take advantage of our Red, White & Brew Sale to save 10% on all retail craft beer and growler fills!
Lineup:
Sierraveza | Easy-drinking Lager
"Inspired by the classic cervezas served ice cold by the beach, we created our own take on those light and easy beers born south of the border. Sierraveza is golden and crisp, with a balanced malt flavor and a hit of floral hops that will have you calling out for another round."

Summer Fest | Crisp Summer Lager
"Born in the 1840s, Pilsener-style beers have become fan favorites worldwide. With a nod toward the original Czech tradition, we brew Summerfest to feature the best of Bohemian nature. Crisp, golden, dry and incredibly drinkable, Summerfest has a delicate and complex malt flavor with spicy and floral hop character—the perfect warm-weather beer."

Narwhal Imperial Stout
"Narwhal Imperial Stout is inspired by the mysterious creature that thrives in the deepest fathoms of the frigid Arctic Ocean. Rich with notes of espresso, baker's cocoa, roasted grain and a light hint of smoke, Narwhal brims with malt complexity. Aggressive but refined with a velvety smooth body and decadent finish, Narwhal will age in the bottle for years to come."

Hazy Little Thing IPA
"Some beers need a little polishing before entering the world, while others—the hop-heavy, rowdy crowd-pleasers—should just be left alone. We package Hazy Little Thing in all its raw glory: unfiltered, unprocessed, straight from the tanks and into the can. It's a swirling cloud that likes to shake things up, a fruit-forward hop adventure for the daring. Go bold and make tonight a hazy one."

Hop Bullet Double IPA
"Hops are the name of the game with a Double IPA, but we knew we had to take it one step further. With Hop Bullet, we're using a new technique, hitting the beer with a one-two punch of Magnum hops and lupulin dust—pure, concentrated hop flavor—directly into the tank to emphasize the intense pine and citrus flavors of classic West Coast hops."

Hoptimum Triple IPA | 2019 Edition
"Our brewers selected the finest, most flavorful hops, pushed them beyond their limits and forged them into this all-new triple IPA. This reimagined Hoptimum is our hoppiest beer yet, providing a blend of tropical and citrus hop aroma that delivers a refined yet aggressive character."
About Sierra Nevada:
Named after the Sierra Nevada mountains where founder Ken Grossman was climbing when his idea to open a brewery took place, Sierra Nevada Brewing Co. has been brewing since 1980. Grossman's goal was "to brew exceptional ales and lagers" and critics proclaim it as "among the best brewed anywhere in the world" today. To ensure their fresh beer gets where it needs to be faster, Sierra Nevada Brewing Co. operates two locations in the east and west – Mills River, North Carolina and Chico, California. It's the tenth-largest brewing company in the U.S.
To see our upcoming Tap Takeovers, click here.