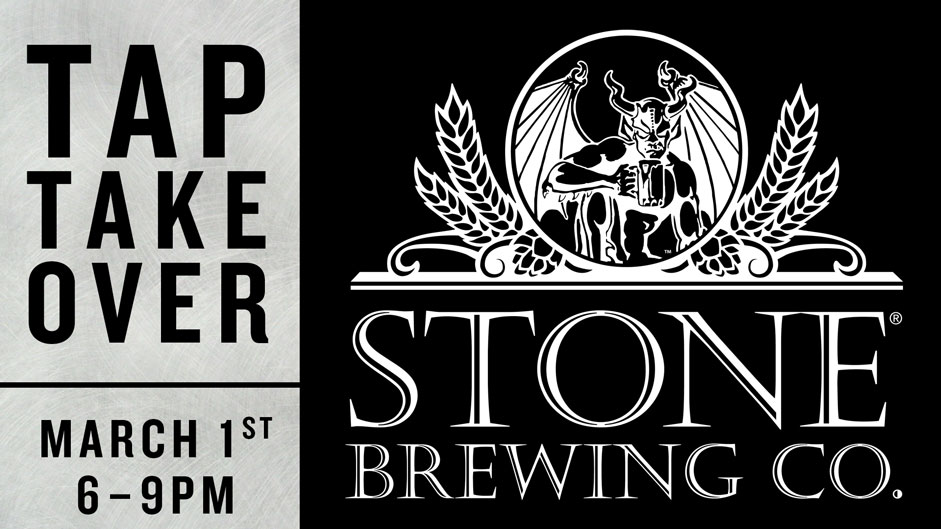 Our First Friday beer event – Tap Takeover – is held on the first Friday night of each month and features a different local brewery. Meet us at The Kitchen for our March Tap Takeover with Stone Brewing Co.! Enjoy $5 pints, free tastings and more on Friday, March 1 from 6-9 p.m.!
Lineup:
Sanctimonious IPA | ABV: 7%
Intense fruit and resin. Citrus, especially orange and grapefruit, cherry, strawberry, pine, resin, and dankness. 
Grapefruit Slam IPA | ABV: 8%
Its bitter, zesty grapefruit peel infusion creates a bright accent to flavors of pine resin and fresh citrus.
Tangerine Express IPA | ABV: 6.7%
Whole tangerine purée brings pithy, crisp bitterness to the citrus flavor. In addition to the complexities of the tangerine, a hint of whole pineapple for a backnote is also present. 
Stone IPA | ABV: 6.9%
This golden beauty explodes with tropical, citrusy, piney hop flavors and aromas, all perfectly balanced by a subtle malt character. 
Tropic of Thunder Lager | ABV: 5.8%
Has that classic pilsner quality from the yeast but a myriad of tropical and citrus flavors from the hops: melon, red candy, lime, orange, and hints of pineapple and coconut. There is mid-level bitterness on the back end.
Arrogant Bastard Ale | ABV: 7.2%
A very aggressive beer.
About Stone Brewing Co.:
Stone Brewing opened in San Diego, California in 1996 and has since grown from a small microbrewery with just two founders into the eighth-largest craft brewer in the United States. Their goal is to brew outstanding, unique beers while maintaining an unwavering commitment to sustainability, business ethics and the art of brewing. They've even been called the "All-time Top Brewery on Planet Earth" by BeerAdvocate magazine twice!