Meet us at The Kitchen for our March Tap Takeover with Houston's own Eureka Heights Brew Co.
Our First Friday beer event – Tap Takeover – is held on the first Friday night of each month and features a different local brewery. This month, we're featuring Eureka Heights Brew Co.! Enjoy $5 pours, free tastings and more on Friday, March 6 from 6-9 p.m.!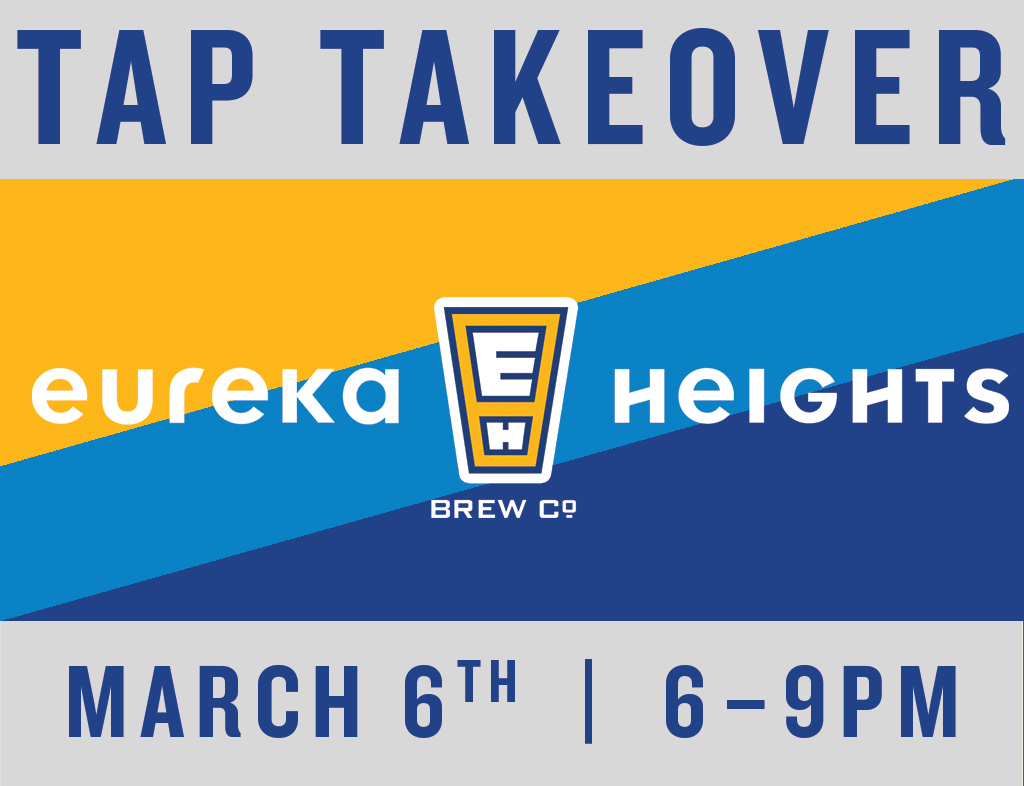 Lineup:
Wow Factor – Pilsner | ABV 5.1% | IBU 50
"This hoppy german pilsner really puts the Wow in Wow Factor. This is a beer without hole. It's worth walking across the street to get a second pint."
Mostly Harmless – Pale Ale | ABV 4.5% | IBU 42
"German malt and Citra hops are cosmically balanced in this weird hybrid of a beer style. The hops hang on your tongue, much the way a brick doesn't. Drink up, the world's about to end."
Wicket Awesome – ESB (extra special bitter) | ABV 4.7% | IBU 30
"This ESB is mighty special. Thumbs up to sick goals and sports and stuff. Drink some of this and you might start reciting Shakespeare or even Chaucer. This may be your Canterbury Tale." 
Space Train – Double IPA | ABV 5.5% | IBU 65
"Have you ever wanted to go to space? Do you like trains a little too much? Do you know what hops are? If you answered yes to any of these questions, then hop on board this fruity IPA!" 
Ax Hat – Norwegian Pale Ale (spring seasonal) | ABV 5.3% | IBU 40
"This Norwegian style Kveik pale ale is stuffed to the Mjölnir with Idaho 7 hops and fermented at a toasty ninety degrees Fahrenheit. Great for hanging out on the patio or defending the world from the forces of evil."
Daisy Duke – Rye Beer (Houston Daisy Chain collaboration)
About Eureka Heights Brew Co.:
Named after the fault line that runs under the brewery, Eureka Heights Brewing Company was started in 2016 by three couples who shared a love of home brewing. They offer year-round brews that are always crisp, flavorful and (mostly) low alcohol, along with seasonal stouts. Visit their Tap Room at 941 W 18th St. in Houston.