National Wine Day is this Friday, May 25 so we're celebrating with a weekend wine sale!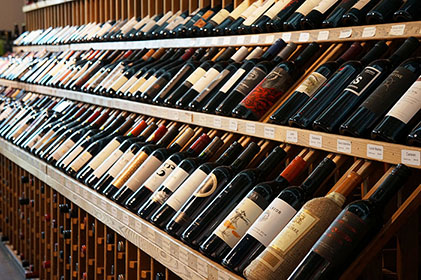 Enjoy 25% off all bottles of wine at The Kitchen, May 25-28.
We offer a selection of over 200 wines priced at retail so you can stock your wine fridge, cabinets and cellars with summer wines! Choose from the slightly sweet Rieslings to the more tart Sauvignon Blancs. Stay hydrated with summer's unofficial wine – rosé – or some bubbles like Prosecco for upcoming celebrations. If you prefer red wines over white, chilled Pinot Noir is also great for summer sipping.
You can even purchase a bottle (with no corkage fee!) to be opened so you can relax on our patio or enjoy over dinner. Have you seen our newest additions to our menu? Check it out here!
If your Memorial Day plans take you out of town this weekend, don't forget about Wine Wednesdays at The Kitchen! Every Wednesday, we offer complimentary wine tastings from 6-8 p.m. and a sale with 10% off individual bottles, 20% off six or more bottles and 30% off cases of wine (center island case stacks only).