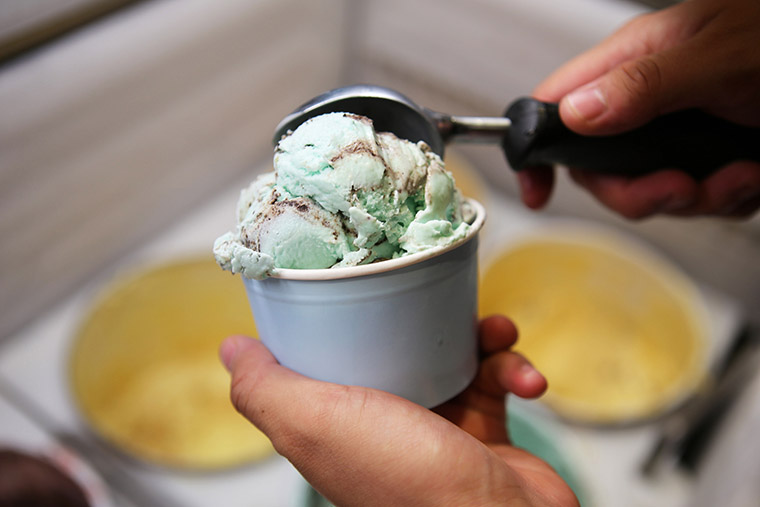 We proudly serve award-winning Ashby's Sterling Ice Cream and will now feature eight rotating flavors in our case! The Kitchen is the only location in North Houston to offer this delicious hand-dipped ice cream.
And now, the secret about our milkshakes is out – we've been using the Ashby's Ice creams for our old-fashioned milkshakes. Stay tuned for more new milkshake flavors soon!
Current Ashby's Flavors Served at The Kitchen:
Buttered Pecan – Creamy, buttery ice cream and lots of pecan halves
Nana's Banana Puddin' – Banana pudding ice cream swirled with marshmallow creme and vanilla cookies
Cool Mint Cookie – Mint ice cream with chocolate covered mint cookie balls and a chocolate cookie fudge swirl
Lemon Cheesecake Bar – Lemon bar ice cream with cheesecake chunks and a graham crust swirl
Chocolate Peanut Butter Cup – Chocolate ice cream with a rich peanut butter ripple and chocolate peanut butter cups
Amaretto Cherry – Amaretto ice cream loaded with cherries and chocolate flakes
Michigan Pot Hole – Thick, black-tar fudge in chocolate ice cream with chunks of chocolate asphalt
French Vanilla – A vanilla custard, French-style ice cream made with sugar egg yolks
It all started in 1984 with a vision to make an ice cream that tasted as good as it looked, using the finest ingredients–and lots of them. Ashby's Sterling Ice Cream from Michigan quickly grew from the initial eight specialty flavors to over 70 unique ice cream, sherbet, and yogurt flavors. Ashby's Sterling Ice Cream has won numerous awards for its quality, with a perfect score for Vanilla; and "Best New Flavor" awards from the National Ice Cream Retailers Association (NICRA).