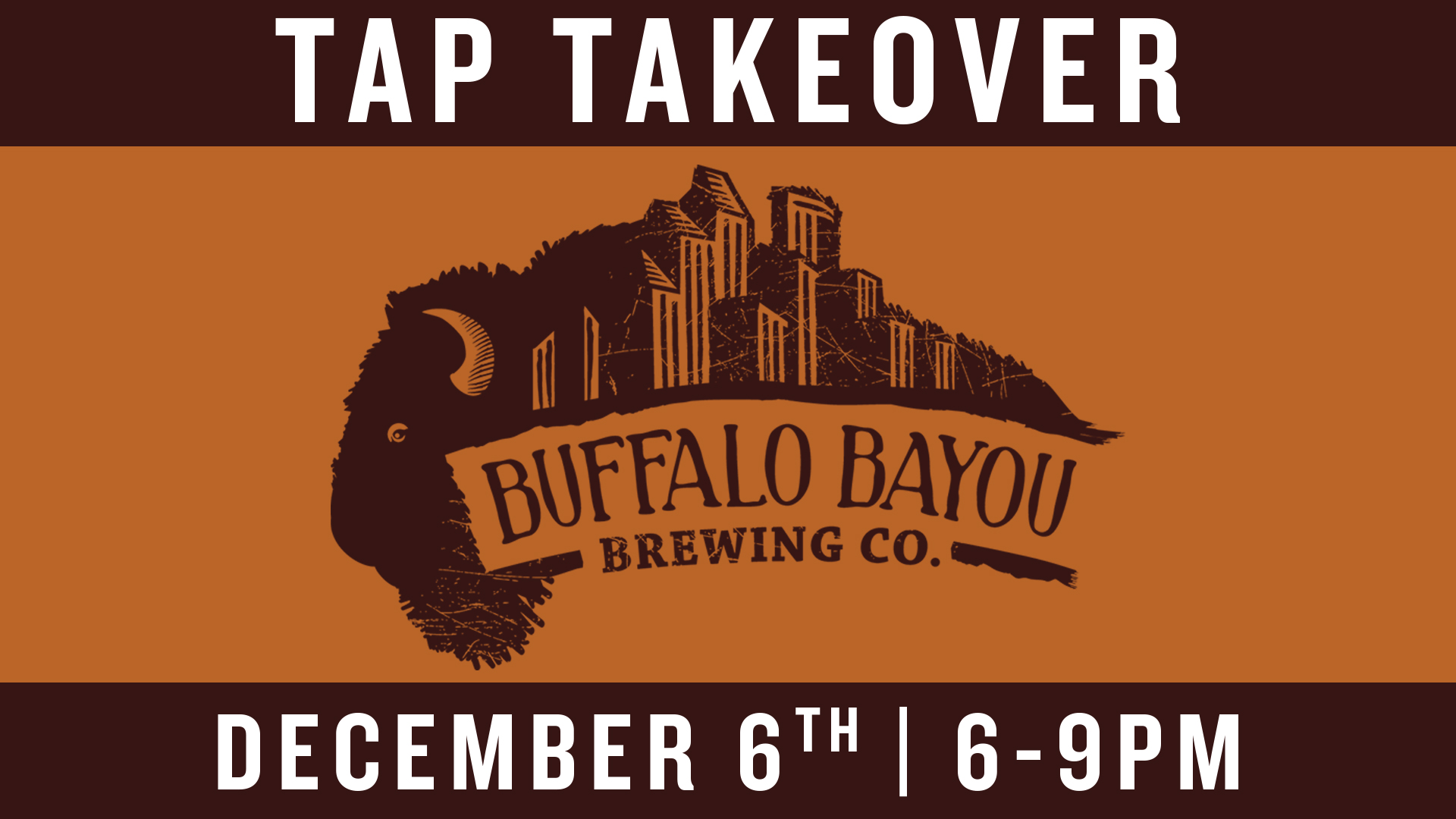 Our First Friday beer event – Tap Takeover – is held on the first Friday night of each month and features a different local brewery. Meet us at The Kitchen on Friday, December 6 for Tap Takeover with Buffalo Bayou Brewing Co.! We'll have $5 pours, complimentary tastings and more from 6-9 p.m.
Lineup:
Great White Buffalo – Witbier
Easily drinkable and straight to the point with a light citrus note to compliment the soft malt-backbone. It's brewed with sweet and seville orange peel plus coriander.
Crush City – IPA
Mandarina cruises a smooth malt body from sip to swallow with a resinous, herbal follow up, finishing crisp and bright. This fun, easy drinking and approachable IPA is an H-Town classic.
2018 Feliz Navidad – Imperial Milk Stout
Warm ginger notes combine with mild ancho chilies to produce a back of the throat heat that is more savory than spicy. You won't find any burn here, just a subtle warmth. Big nutmeg, cinnamon and clove round out this roasty, semi-sweet stout.
White Raz – Blonde Ale
A smooth and complex drinker, with citrus notes throughout its soft, malty backbone. It finishes with a sweet and tart raspberry kick; clean, dry, and crushable.
1836 – Copper Ale
A sweet and toasty measure of Victory malts counter-balanced with the earthy, woody, Powerful, but balanced aromatics of citrusy & floral American & British hops. The bready, biscuit flavors of Victory Malt (an American spin on the Belgian Biscuit malts) finishes clean leaving a dry roast on the mouthfeel.
Beez Nutz – Porter
This robust porter starts out all chocolatey, but surprises you with a pop of earthy honey sweetness, and finishes clean with notes of caramel and hazelnut.
About Buffalo Bayou Brewing Co.
Buffalo Bayou Brewing Co. was founded in 2011 by Rassul Zarinfar and Ryan Robertson because no one was making the beer they wanted to drink. What began with a home-brewer's vision, sprouted to producing & self-distributing only draught in 2012 and all the way to 8,000 barrels produced in kegs, cans and bombers, state wide distribution and 74 total beers in 2018. On November 1, 2019, they opened their brand new three-story urban beer oasis at 2101 Summer Street in Houston with a restaurant and rooftop beer garden.