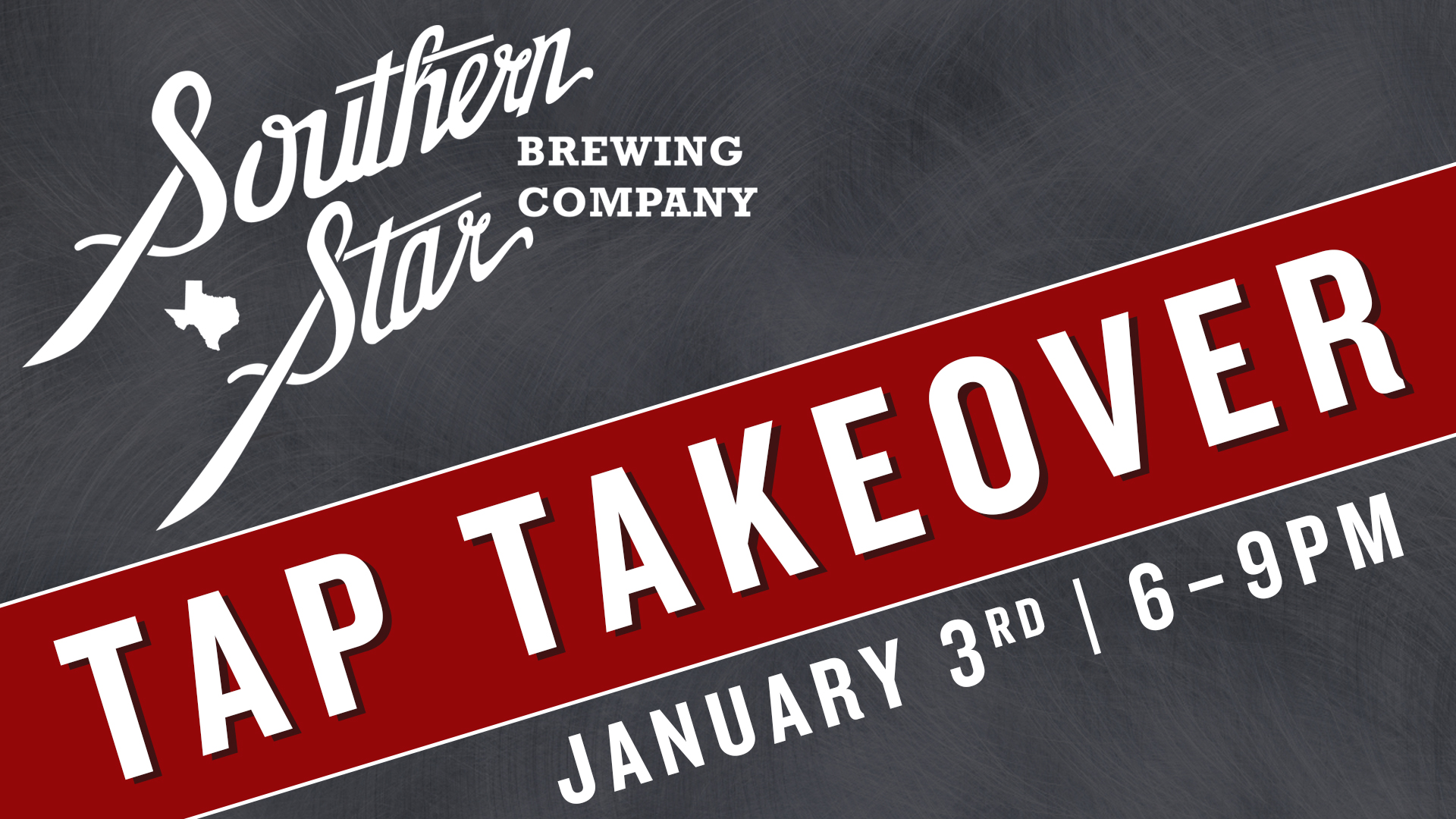 Our First Friday beer event – Tap Takeover – is held on the first Friday night of each month and features a different local brewery. Meet us at The Kitchen for our first Tap Takeover of 2020 with our friends from Southern Star Brewing! Enjoy $5 pints, free tastings and more on Friday, Jan. 3 from 6-9 p.m.
Lineup:
Bombshell Blonde
Brewed with American Pale and Vienna malt that combine to give this ale its distinctive smooth, creamy body. Just enough hops are added to this rich, golden colored ale to perfectly balance its bready finish. Fermented at a cool temperature to give a clean finish.
Conspiracy Theory West Coast IPA
India Pale Ale with Amarillo and Simcoe hops dominating both flavor and aroma. A light, but noticeable caramel malt backbone boosts the drinkability of this true West-coast style IPA.
Octobrist Russian Imperial Stout
A style with a heritage as long and storied as it's a namesake this stout is said to have been popular with the Russian Imperial Court. Ironically it was the English and the Americans that unearthed this style that all but disappeared. Color is jet black. An intensely flavored dark ale with big, roasty flavors carrying strong notes of coffee finishing with subtle cocoa and dark fruit. Raise a Kpyka to the complicated history of Mother Russia, and savor this stout with your best comrade or beautiful babushka.
La Mort Vivant
Rustic, malty, and complex. Displays subtle notes of baked apples and stewed pears in both nose and flavor. Hints of anise and delicate spice.
Sunday Brunch Blonde Ale
Poseidon New England IPA
About Southern Star Brewing Co.:
Southern Star Brewing Company was founded in July 2007 in Conroe, Texas. They were the first craft brewery to can craft beer in Texas. The first beer they brewed was their Pine Belt Pale Ale. Shortly after, they added Bombshell Blonde and Buried Hatchet Stout to their list of year round releases, with Conspiracy Theory IPA added in 2016 and Blood Belt Pale Ale in 2017.