Join us for our rescheduled Tap Takeover with Copperhead Brewery on Friday, Feb. 21st.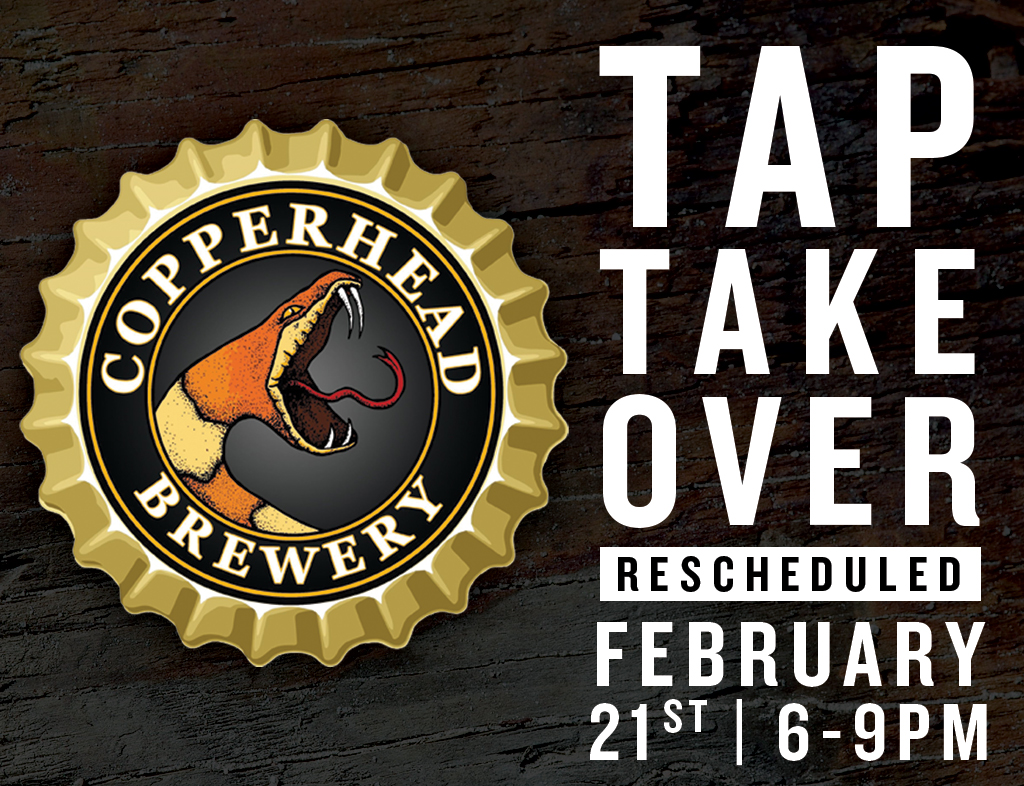 Our First Friday beer event – Tap Takeover – is held on the first Friday night of each month and features a different local brewery. Meet us at The Kitchen for our February Tap Takeover with Copperhead Brewery on Friday, Feb. 7! Enjoy $5 pints, free tastings and more from 6-9 p.m.
Lineup: 
Medusa (Quadrupel) | ABV: 10.5%
Medusa's rich, dark fruit flavors are derived from a true Belgian abbey yeast and Belgian candi sugar. Those flavors transition into a sweet, bready malt base. Dangerously easy to drink. As great as Medusa is fresh, it will age nicely.
Striker IPA | ABV: 7%
Striker IPA is all about hops. The trio of Citra, Columbus and Apollo hops create a dank, resinous, tropical and citrus flavor. Light bodied with a crisp malt base lets the hops shine. 
Black Venom (Imperial Stout) | ABV: 10%
Black Venom is our imperial stout. Solid black. Chocolatey and roasty but with a smooth, creamy finish. This stout is great while fresh, but will age wonderfully.
Athena (Belgian Golden Ale) | ABV: 8.6%
Athena is deceptive. Light in color and body, it's very easy to drink. It hides the 8.6% ABV very well. Brewed with only Belgian pilsner malt and hopped with Herkules, East Kent Goldings, and Czech Saaz hops. It's our take on a traditional Belgian golden strong ale.
Gold Lager (new)
About Copperhead Brewery:
Since 2014, Copperhead Brewery has been offering year-round and specialty beers in a fun and friendly environment at their pub and brew house just a few blocks from downtown Conroe. Its creators share a passion for unique and well brewed beers which inspired them to make a premium product made with fresh, quality ingredients.